Wood Floors Athens, Georgia
Athens Wood Floor Installation Company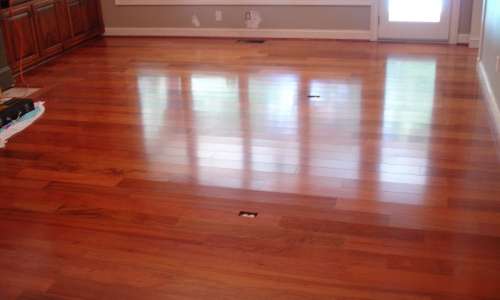 Just Floored of Athens, Georgia offers affordable hardwood floor installation that includes wood or tile floor installation as well as hardwood floor refinishing with the highest of quality and customer satisfaction for both homeowners and business owners throughout Athens, GA. Call us today to learn more and get a complimentary estimate--and we'll come out to you! We have been installing and refinishing wood floors in the Greater Atlanta Area including Athens, Georgia for over two decades and the best reputation of all installers, proving that our pricing and quality of work beats all of the competition.
Hardwood Floor Installations for Athens, GA
Just Floored can install solid hardwood floors, engineered wood floors, glued down wood floors to nail down, floating floors as well as tile or stone floors and back splashes in the Athens, GA area. If you have existing hardwood floors you want to increase in square footage, we can install new wood flooring while marrying in the new into the old flooring and matching the stain, or refinishing all of the floors for a perfect match.
Wood Floor Repairs in Athens, Georgia
Just Floored is expert at repairing your existing wood floors for Athens, Georgia homeowners. We can repair any type of wood flooring. Including : solid wood flooring, engineered wood flooring, custom wood floor, herringbone, parquet, bamboo, or even a laminate floor. Also remember we can install or repair tile or stone floors as well. Our highly skilled technicians are expert at providing quality repairs that will add to the value of your home or business. We can repair wood floor breaks, gouges, scratches and more, and fix stain problems. This includes restaining and resealing the floors to bring them back to new condition. Just Floored offers quality work at affordable prices for Athens, Ga residents, so call us today to learn more.
Athens Wood floor refinishing
Wood Floor Refinishing Services for Athens, Georgia Residents includes sanding, refinishing, repairs, and wood floor installation.
Just Floored is renowned for it's ability to provide expert wood floor refinishing. This wood floor refinishing entails sanding existing wood floors down to the bare wood then fill the flooring for cracks and other repairs. The last step in Athens, GA is to apply a three coat process, one coat of stain then apply two coats of polyurethane. We offer floor laying for new floors. We also offer floor refinishing using low VOC or no VOC products and dustless sanding.
If Repairing and Refinishing your entire wood floor area is not necessary, you may need to have a few spots repaired or refinished. Our Athens, Ga skilled technicians can get your wood flooring looking new again. Just Floored of Athens, Ga offers quality craftsmanship, top of the line wood floor products and durable finishes. We also take great care to provide dust-free sanding when resanding wood floors. We can provide many types of wood flooring including White or Red Oak, Maple, Hickory, Walnut, Cherry, Ash, Beech, Birch, Bamboo and several other exotic woods. Call us for a free in-home estimate and we can show you samples to choose from as well as show you various stain colors.
Our technicians provide a DUST FREE sanding option to keep your home clean and virtually dust free. We now offer a DUST FREE sanding option that removes over 90% of the dust before it leaves the sanding machines. Contact us to learn more. We will give you the best wood installation or refinishing job we can, and you will love your floors again as well as increase the value of your Athens, Ga home or business. We offer floor laying for new floors. We also offer floor refinishing using low VOC or no VOC products and dustless sanding.