Smyrna Floor Installation
FLOORING INSTALLATION SERVICES, SMYRNA, GEORGIA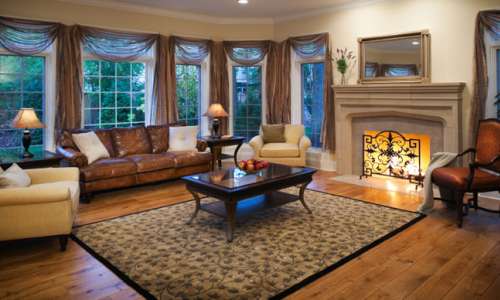 Free In-home Estimates in Smyrna, Georgia
If you own a home or business in Smyrna, Georgia, call us first to get a free quote on refinishing or replacing your hardwood floors. We can put in brand new hardwood flooring, expand your current hardwood floors to another room, or refinish your flooring to a new stain color. Call us at 404-452-2500 and we will send out a highly trained technician to your home or business to check out your current floors and provide a free, affordable quote.
Our technician can also help you choose from various flooring options. We service both new or existing homes or businesses. Just Floored in Smyrna can sell and install a wide variety of wood flooring, including maple, oak, cherry, hickory, walnut plus strong engineered floors, cost effective laminate floors, stylish bamboo flooring, cork flooring, vinyl, or tile or stone flooring. We can also install stone or tile back splashes in your kitchen or bath. We offer floor laying for new floors. We also offer floor refinishing using low VOC or no VOC products and dustless sanding.
Additionally, Just Floored pricing is competitive and its work is the best in the Metro Atlanta Area including Smyrna, Georgia. Clients that own homes or businesses will love their new floors and the work we provide. Residential or business equity will increase as well. We have serviced hundreds of homes and businesses in your area, including restaurants. Just Floored is the best installer for hardwood flooring and other types of floors in your Smyrna location.

Sales and Installation of Wood Floors, Tile, Stone or Carpet
Smyrna clients can view choices for hardwood floors and tile by going to Just Floored and clicking on the products tab, or www.JustFloored.com/Products. Wood floors come in cherry, walnut, oak, pine, hickory, maple, bamboo, cork, and more. We can come to your Smyrna home or business and help you select the type of wood floor, finish and stain color. Besides wood flooring, we offer engineered flooring, tile, stone, vinyl and carpet. We have been installing floors in Smyrna and Metro Atlanta area for over 20 years, having completed hundreds of jobs with very satisfied customers. All labor work for Smyrna installations is warranted. Also, if you purchase the floor products from us, we warranty the product as well as the flooring installation. Just Floored can refinish your existing wood floors, repairing any gouges or scratches, even changing the stain color. Save money while getting the best professional flooring installation possible. Call us for a free estimate at 404-452-2500.
Refinishing Smyrna Floors
If you own a home or business in Smyrna, Georgia, you might want to keep your existing floors, but have them look new again with refinishing. Call us now to get a free quote. Just Floored can sand, stain and refinish your floors back to the new look when they were first installed. Styles change, and right now the darker wood floor stains are in. Our craftsmen can help you pick stain colors, type of wood or flooring and the finish. Just Floored offers both oil based or water based products for your Smyrna home. Just Floored also offers an our odorless finish by Monocoat that is VOC free. You will enjoy an increase in equity in your Smyrna home or business because of the professional sanding and refinishing we offer. Need to repair or add to an existing hardwood floor? Just Floored is an expert! We can match your existing floors and add more flooring that blends in perfectly. We offer free in-home quotes, call us today at 404-452-2500 or Email us at info@justloored.com. We offer floor laying for new floors. We also offer floor refinishing using low VOC or no VOC products and dustless sanding.
Making Hardwood Floors in Smyrna Look New Again
Just Floored can make your old floors in Smyrna look new again by sanding, staining and resealing. Call us for a free in-home quote. It may be possible to save money by keeping your existing floors and just refinishing the flooring. Call us today for a free appointment to come out to Smyrna and inspect your floors. If it is determined your old floors need to be replaced, we can help save you money on the cost of the floors and the installation. We offer services for both residences and businesses in Smyrna Georgia. For restaurants, see our list of growing restaurants we have refinished or replaced flooring on. We offer low VOC or no VOC products.
Floor Repair, Smyrna, Georgia
Are your hardwood floors all scuffed up and gouged? We can come to your home in Smyrna and examine your floors and the problems to evaluate whether the floors can be repaired or it is simply time to replace the floors. It is possible we may be able restore your existing Smyrna hardwood or stone floors and save you money by sanding and restaining your floors. Some Smyrna clients may want to add hardwood floors in an adjoining room, we can marry in new flooring to match the old for a seamless wood floor installation. Or Smyrna clients can change the look of the old flooring with a new stain color. Sanding, staining and sealing is a cost effective way to upgrade your home without purchasing new wood floors. If you are selling your home, this upgrade could be what it takes to attract buyers.
Smyrna Subfloors
Subfloors can become out of level with age, or get water or insect damage. Just Floored offers subfloor replacement at a cost effective price. To go on top of the new subfloors, our highly trained technicians can help you select hardwood floors, cork, bamboo, engineered floors, carpet, vinyl or even stone or tile floors. Call Just Floored today at 404-452-2500.
Vinyl Floors For Budget Minded Smyrna Homeowners
We offer a large variety of vinyl flooring at affordable prices. and can provide professional installation. Newer vinyl products are on the market now that may be the right solution for your Smyrna home or business. Call us today.