Loganville Floor Installation
Floor Instalaltion Services, Loganville, Georgia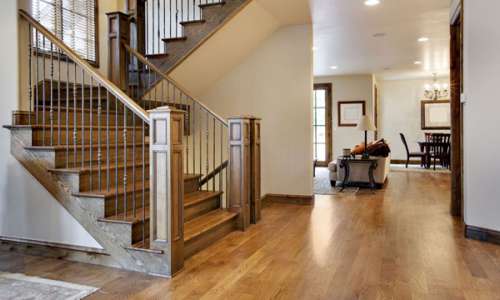 Call Just Floored, LLC. for Free Floor Installation Quote - Loganville, Georgia
Get a quote on refinishing or installing new hardwood floors in Loganville home or business. Our services included installing new hardwood or engineered flooring. If you already have hardwoods and you want to add to them, maybe extend them to another room, we can add more hardwoods to match your existing floors and marry them in so it is seamless.
We can also professionally refinish your current hardwood floors by sanding, staining and applying a low or no VOC sealer coat. For any flooring service, call us at 404-452-2500 for a free in-home quote. We can give you choices in wood species, modern stain colors or options like wide plank wood floors or hand scraped in hardwoods, engineered floors or laminate. Choose from wood flooring such as maple, oak, cherry, hickory, walnut, engineered floors, laminate, bamboo, cork, vinyl, or tile or stone flooring or kitchen or bath back splashes. Yes, we install kitchen and bath back splashes and flooring! Ask about a custom design, which can really make a room look great!
Just Floored offers the best pricing for floor installation prices in the Metro Atlanta Area and Loganville, Georgia. We warrantee our work and our technicians are experts. We have been installing and refinishing floors in the Loganville area, including many, many restaurants for over 17 years. Call Just Floored for all your floor installation needs at 404-452-2500. We offer floor laying for new floors. We also offer floor refinishing using low VOC or no VOC products and dustless sanding.

Hardwood, Engineered, Bamboo, Laminate, Cork, Tile, Stone Flooring for Loganville Residents
Loganville residents will love the flooring choices offered by Just Floored, go to the products tab, or www.JustFloored.com/Products. We have installed wood floors in cherry, walnut, oak, pine, hickory, maple, bamboo, cork or laminate. Call us today for a free estimate. Choose wood floors, types of finish and stain color. We can also install vinyl or tile or stone, which includes floors or back splashes. We are the best in the industry. Just Floored warranties the labor for all Loganville clients. Just Floored also refinishes and restores existing hardwood floors. We can change the stain color too. We offer low VOC or no VOC products Call us for a free estimate at 404-452-2500.
Just Floored offers Floor Refinishing for Loganville Customers
We service both residents and business owners in Loganville, Georgia. Just Floored will professionally sand, stain and refinish your hardwood floors for the best possible price in the Atlanta area. Just Floored can use an oil based product for longer wear, or a water based products for faster drying and less odor. We do have an odorless finish by Monocoat that is VOC free. We offer both low VOC or no VOC products. Your floors will look great and also improved the value of your property. We can repair or add to an existing hardwood floors, matching into the current floors. Just Floored is an expert! We offer free in-home quotes, call 404-452-2500 or Email us at info@justloored.com.
Loganville - Restoring and Repairing Hardwood Floors
If you find your hardwood floors are getting dull, dinged or scratched, we can sand, stain and reseal your floors to make them look new again. Call Just Floored today, we will come out and give you a quote on refinishing your existing hardwood floors, or installing new wood floors. Refinishing your floors may save you money if the floors are in good shape. If your hardwood floors are not repairable, we can replace them at a very competitive price. Call Just Floored first for a free quote, we are the only choice for floor laying and installation. We offer floor laying for new floors. We also offer floor refinishing using low VOC or no VOC products and dustless sanding.
Subfloor Work for Loganville Homeowners
Uneven subfloors are out of level or uneven can wreak havoc on existing or new wood floors. Just Floored of Loganville can replace your subfloors at a low price. After we repair or replace your Loganville subfloors, we can help you choose new hardwood floors, cork, bamboo, engineered floors, carpet, vinyl or even stone or tile floors. We are the right floor installer, call Just Floored today at 404-452-2500.
Loganville Vinyl Floors
Vinyl flooring is cost effective and comes in a wide range of colors and patterns. Call Just Floored for Loganville professional floor installation. Our vinyl products work well in high traffic areas or areas with a possibility of water overflow. Call us today at 404-452-2500.
Loganville Tile or Stone Installation
Just Floored is the expert to call for any tile or stone installation. We lay stone or tile on floors or back splashes. Kitchens and baths are our specialty. We are expert at laying tile on the diagonal or creating patterns with various orientations or mixing in other tile or stone. Check out our stone gallery by clicking here. Call us today at 404-452-2500 for the best prices in Loganville.