Jacksonville Hardwood Floors
Jacksonville Commercial and Residential Hardwood Floor Installation and Refinishing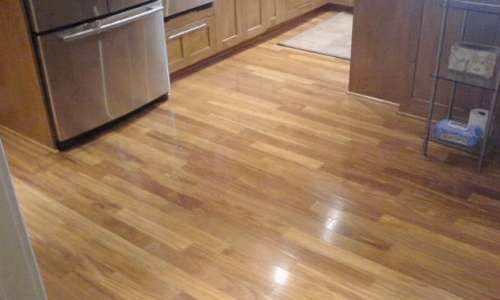 Call us today to get a free In Home Quote in Jacksonville
Just Floored is the premier floor installation company for Jacksonville, Florida. Call us today and we will come out and evaluate your existing floors and help determine if your floors can be refinished, or it is more economical to install new wood floors.
When it is time to replace your outdated, worn or damaged wood floors, our highly experienced technicians can help you choose which type of flooring would work best for your home or business. We can supply and install any type of wood flooring from unfinished or prefinished hardwood floors, prefinished engineered floors, great looking and affordable laminate flooring, bamboo or even cork floors in Jacksonville, Florida.
Just Floored of Jacksonville also installs stone or tile for you floors, walls or back splashes, primarily in kitchen and baths, but we can install tile or stone throughout your entire home, which is a popular style for Jacksonville, Florida. Whichever product you choose to have installed, our expert craftsmen will do a professional job for you that you will love. Our work is guaranteed and our pricing is very aggressive because we want your business. Jacksonville, Florida homeowners or business owners will love the way the new surroundings look. Installing new flooring, whether tile or wood, your home or business will enjoy an increase in equity and be worth more. Sometimes it makes a slow moving house for sale suddenly appeal to a much larger group of buyers!!
Just Floored Installs and Sells Wood Flooring for Jacksonville, Florida.
Jacksonville residents and business owners are encouraged to call us for a free quote by Just Floored. We offer a wide variety of wood types such as cherry, walnut, oak, pine, hickory and maple, as well as floor plank width and stain color and sheen. Need help picking out the right flooring for your Jacksonville, Florida home? We can help. Choices for residential and commercial floor installation in Jacksonville can also include cork, bamboo, laminate or stone and tile. Look online for examples of wood floor stains to see the variety of colors available. Just Floored has over a decade of experience installing hardwood floor and tile in Jacksonville, Florida. We promise you the top professional installation job you can find, plus we beat everyone's prices! All installation jobs in Jacksonville come with a warranty on our labor. We will also guarantee the flooring product if you buy it through us. We install new hardwood floors, or we can replace or refinish existing floors. Call us for a free estimate at 904-432-6464. Remember to go online at www.JustFloored.com/Products to see our flooring products.
Refinishing by Sanding and Staining in Jacksonville, Florida
If your floors are still in pretty good shape, we can refinish your floors by first sanding them to remove the stain and finish, then restaining them to your color choice and applying 2 to 3 coats of finish to protect them for many years to come. For Jacksonville, Florida residents or business owners, Just Floored is your best choice for floor installation, hardwood floor refinishing and repair. Our experts will sand your hardwood floors, and stain them with any color you choose. You can see color choices online or we can show you samples. Once we have sanded your floors, we will expertly stain them, then seal the wood with a polyurethane finish. Although oil based finishes are more traditional and less expensive, we can also apply low VOC, waterborne finishes that are more durable and dry a lot quicker showing same day recoating and also all-natural, no VOC finishes by Rubio Monocoat. We also offer an odorless finish by Monocoat which has no VOCs for Jacksonville customers that are sensitive to chemicals. Your Jacksonville home or business will look remarkable! The value of your building will also go up. Have existing flooring you want to add to or fix? Just Floored can match your current floors and extend them into another room seamlessly. We offer floor laying for new floors. We also offer floor refinishing using low VOC or no VOC products and dustless sanding. Get free in-home quote by calling 904-432-6464 or Email us at info@justloored.com.
Recoating Hardwood floors in Jacksonville
Your Jacksonville, FL home or office wood floors may need refinishing. Call us to come out and evaluate your existing floors to see if they can be refinished. Sometimes a light buffing and recoating with sealer is enough to bring the floors back to life. Our pricing is very competitive for Jacksonville, so whether your floors can be revitalized with a recoating, or a new floor installation is recommend, we will give you the best job possible as the best price, and your floors will look fantastic. We offer low VOC or no VOC products.
Just Floored Repairs for Jacksonville Flooring
Call us to set an appointment to see if your existing floors can be saved. Just Floored is an expert at repairing floors including broken planks, scratches and gouges. Jacksonville, Florida homeowners often want to extend their flooring into an adjoining room, sometimes adding hardwood floors to an entire floor. We can feather the new flooring into the old so it is seamless. This is a good time to change your stain color or sheen. A new stain color can make a house look like a completely different environment and is one of the services we offer for Jacksonville clients.
Jacksonville Out of Level Subfloors
If your floors at your home of commercial building are out of level, it could be the fault of your subfloors. Call us, we can fix your bad subfloors. If your subfloors are out of what, all your floors will look uneven. Get the most out of your Jacksonville home or business by calling Just Floored today.
Jacksonville Vinyl Floor Installation
Just Floored can supply and install vinyl flooring in Jacksonville at competitive pricing. Vinyl has improved over the years and comes in a huge selection of patterns and colors, many resembling wood or stone.