Hoschton Flooring Contractor
Top Flooring Contractor for Hoschton, Ga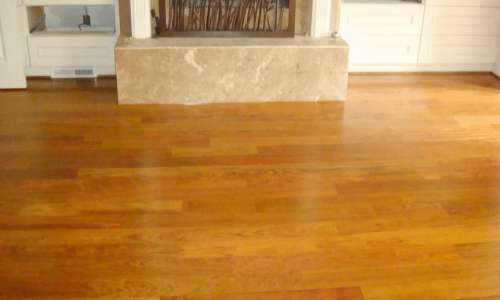 Wood Floor Installation
Thinking of changing out your floors in your current home or business or installing flooring in a new construction? Just Floored, LLC is the premier flooring company to call for any type of new floor installation including finished or unfinished hardwood floors, engineered wood flooring, laminate floors, bamboo, cork, hand scraped flooring, vinyl, stone or tile.
Our highly trained floor installation technicians are expert at installing floors, including estimating how much flooring your will need, which stain colors work well, and what type of wood floor finish is best for you. We offer free in-home consultation to evaluate your current flooring, measure the rooms and show you samples of various wood products such as cherry, maple, oak, hickory, hand scraped, Brazilian, laminate, bamboo and cork or other products as well as stain colors and finishes to help you decide on the best product. Our flooring installation service to install new floors comes with a full warranty on our labor, we are renowned in the Hoschton, Georgia area as the best floor installation contractor in the area. Call Just Floored today at 404-452-2500.
Installing new floors in your Hoschton, Georgia home is a great way to update the look of your home. Did you know it will increase the value of your home as well as make your home more sellable in case you have decided to sell? Don't just call anyone for wood floor installation, call Just Floored to get the best professional floor installation job at the lowest possible price. Our outstanding craftsmanship as a flooring contractor along with top of the line products will make your home or business a showcase! Our floor laying skills are the best in the industry and we are the premier flooring contractors in Hoschton, GA.
Save Money with Floor Refinishing
Call Just Floored, LLC today for a free in-home evaluation of your current flooring. There is a good chance your current hardwood floors are in good enough shape to be refinished. Hardwood floors get worn over time, the finish wears off, dings and scrapes show up, but if it is real hardwood flooring and hasn't been refinished too many times, chances are one of our highly trained flooring contractors can refinish your hardwood floors by first sanding them, using our dustless sanding method. Once the hardwood floors are sanded, we will come back and stain the wood floors with the stain color of your choice. We offer no VOC's and low VOC's products for staining and sealing your floors as a green alternative to the more harmful chemicals used by other flooring contractors.
Because we use a low VOCs or even now VOC's products to help keep down chemical odors and allergens, your Hoschton home will not only look fantastic with our professional floor installation, you will see an increase in value. Just Floored is the right flooring contractor for floor laying of new floors. Just Floored of Hoschton offers floor refinishing using low VOC or no VOC products and dustless sanding. Call us today for a free in-home quote at 404-452-2500. Email us at info@justfloored.com with any questions.
Adding wood floors to your existing Hoschton flooring is best left to the experts at Just Floored, LLC. For clients that have existing hardwood floors but want to extend them to another room, our expert technicians can marry in the new wood floors seamlessly to your existing and sand using the dustless sanding method, then stain all the wood at one time using low VOC or no VOC products. Your new flooring will look like it really fits your home.
Deciding on Design in Hoschton, GA
Click our Products tab to view our selection of wood, bamboo, cork, laminate, vinyl, tile products we offer. Hoschton clients are welcome to supply their own wood floors, tile or stone for Hoschton Georgia floor installation or Just Floored can supply the wood flooring, laminate, engineered wood, bamboo, cork, hand scraped floors, vinyl, tile or stone. Just Floored is the best flooring installation contractor and are the leading Flooring Company in North Georgia. Our free in-home consultation and evaluation will not only help you choose the right wood floors or other flooring, but also help you decide on the design of the flooring installation. Just Floored has over 20 years experience in installing wood floors in the Hoschton and Atlanta Metro Area. For example, when installing a tile or stone back splash in your kitchen, we can mix products and install part of the tile on the vertical, add liners, and more to give your backsplash a real custom look! Borders and inserts can be installed into your floors as well.
Subfloors
Just Floored LLC can determine if your subfloors are level and will make a good foundation for new flooring. If your subfloors are bad, the floor installation job will suffer. Call Just Floored at 404-452-2500 today for a free in-home evaluation and estimate.
Other Flooring Products
Besides the ever popular hardwood floors, many people are considering laminate flooring, bamboo, cork, hand scraped floors, vinyl and tile. Let Just Floored of Hoschton, Georgia show you examples of these products and see how they would fit in your home. Our new vinyl products are remarkably improved over past products. For basements, consider vinyl, cork, bamboo or laminate floors where moisture might be a problem.