Green Cove Springs Floor Installation
Green Cove Springs Hardwood Floor Installation Refinishing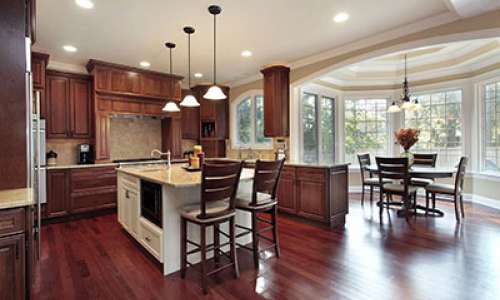 Call Just Floored for Wood Floor Installation
for new wood floor installation or dustless floor refinishing in Green Cove Springs, Florida. Increase your home value and while at the same time updating the look. Just Floored can help you choose whether to refinish your existing hardwood floors or install new hardwood other type of flooring. We can bring samples of hardwoods such as oak, cherry, maple, hickory, hand scraped, wide plank, thick laminate, bamboo, cork, tile or stone.
Genuine hardwood floors are beautiful and long wearing and can be sanded and refinished when they get worn, but it still may be time to replace them. Just Floored is expert an installing hardwood floors as well as engineered wood floors, budget friendly laminate, cork , bamboo, vinyl, hand scraped or tile. Just Floored of Green Cove Springs, Florida can install wood,stone or tile in custom patterns as well, including back splashes and wall tile. With more than 20 years experience, Just Floored is the right floor laying company to call for your next flooring job, and the work is warranted for your protection.
Green Cove Springs Wood floor installation and floor laying
Call today to have Just Floored of Green Cove Springs, Florida can come to your location in Green Cove Springs to evaluate your situation and recommend wood flooring from a variety of species and grades such as cherry, walnut, oak, pine, hickory and maple whether site finished hardwood floors or prefinished hardwood floors, or even engineered wood, hand scraped wood, laminate, cork or bamboo, stone, tile and vinyl with expert precision at an affordable cost. Just Floored has over 20 years experience installing wood floors and laying floors. Just Floored provides floor installations, flooring refinishing. You will love your floor laying finished project. We refinish wood floors with low VOC or no VOC products and dustless sanding. Call us for a free estimate at 904-432-6464.
Dustless Refinishing for Green Cove Springs
Your home is your castle and the place you should feel the best. When your floors need to be sanded and refinished, or can be refreshed with buffing and recoating, Just Floored of Green Cove Springs, Florida offers expert service along with competitive pricing. Just Floored of Green Cove Springs is known for wood floor installation and floor refinishing. We can sand your current hardwood floors and apply a matching stain color or a new color you like, then seal the wood floors with polyurethane a low VOC finish that is odorless by Monocoat. Match your current wood floors by our installation technicians will marry in new flooring tot he old. We are the professionals for floor laying. Our sanding is dustless and we strive to keep your home clean. We prefer floor refinishing with low VOC or no VOC products and dustless sanding. Learn more, call us for a free in-home quote at 904-432-6464 or email us at info@justloored.com.
Recoating Your Hardwood Floors - Green Cove Springs
Recoating your existing hardwood floors is a one day procedure that replaces the polyurethane finish that has become dull and worn from everyday use. Recoating fills in small scrapes and dings. If you have deep gouges, large scrapes or color discoloration your will need the floors to be refinished to bring them back to new .Just Floored of Green Cove Springs is expert at refinishing your wood floors by sanding, staining and sealing the existing floors. Phone today and we will come out to evaluate your existing hardwood floors to see if they can be refinished instead of replaced. We offer low VOC or no VOC products.
Green Cove Springs Floor Repair
Just Floored can come to your location and evaluate your current floors to see what is the most economical route to fixing your floors. We are highly skilled at fixing broken wood floors, scratched and gouged floors, and dull finishes on old wood floors. We can also replace the old flooring with brand new floors, whether wood or tile, so call today for more information.
Green Cove Springs Flooring Subfloors
If your Green Cove Springs subfloors floors are uneven, your wood floors will buckle and squeak, your tile crack and break. Having even subfloors is an important foundation for floor laying. Just Floored is extremely talented at floor laying, whether hardwood floors, cork, bamboo, engineered floors, vinyl, stone. We will make sure our subfloors are level and correct. Just Floored can install your floors professionally, and check your subfloors. Call Just Floored today!
Vinyl Floors - Green Cove Springs, Florida
Just Floored offers vinyl flooring installation which is cost effective. Vinyl flooring is popular now because of it's low price, durability, and ability to withstand moisture. It comes in a wide selection colors and patterns, and is best installed by a professional like Just Floored of Green Cove Springs.