Flooring Installations Johns Creek
Flooring Installation Services now available for Johns Creek, GA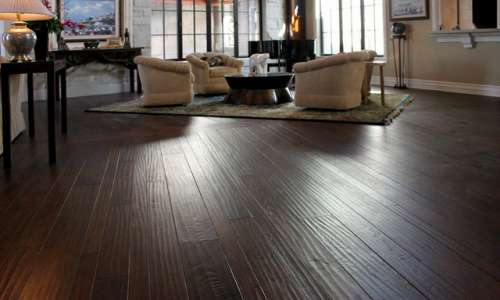 Johns Creek In-Home Quoting for Wood Floors
If you are contemplating installation or the repair of new floors for your home or business in Johns Creek, GA home, call Just Floored today to find out about how we can help you save money. Just Floored has a an immense selection of choices for flooring in your Johns Creek residence, including a giant assortment of hardwood floors, laminate, engineered wood floors. and more.
We offer many types of gorgeous hardwood floors including oak, cherry, maple, bamboo, hickory that are worth the mention. If you have an area that and would like to use engineered wood flooring but would like to learn more about their quality and color options, call us. Other types of flooring you may want to consider are affordable laminate flooring, cork flooring, or even the new and improved versions of vinyl flooring which has been much improved over the last few years. For kitchens and baths, many Johns Creek homeowners choose stone or tile flooring. Our expert installers are skilled craftsmen when it comes to installation of wood, vinyl, tile, stone. We can help you with bathroom and kitchen tiling also, including designer options that work with stone or tile trim. Of course, all of the work is warranted. Phone today and learn about how we can help you add equity to your Johns Creek, Ga home or business, and make your surroundings even more beautiful.
Hardwood floors are now more affordable than ever, and now come in competitively priced styles. At Just Floored – Johns Creek, we have the knowledge and expertise to answer any of your questions or address any concerns about the assortment flooring options that are available. We offer floor laying for new floors. We also offer floor refinishing using low VOC or no VOC products and dustless sanding.
Hardwood offers a luxurious look and feel that can't be beat. The assortment of species and finishes available make hardwood flooring as adaptable to your space as you need it to be. At Just Floored - Johns Creek, our Technician can even design a custom hardwood flooring pattern that fits your room perfectly. Borders, Diagonal, herringbone, and other beautiful patterns and colors that add zest to a room and take a hardwood floor from simple to extraordinary.
Let Just Floored Help Select Your Materials
We acknowledge the fact that selecting the right materials for your new flooring to be installed by Just Floored is an overwhelming task at times and we would like to help. On our website, hit the "Products" tab to see a wide selection of wood, tile, vinyl, stone and other products you can select for your crisp new floors or backsplash. Wood flooring is offered in various species and grades such as cherry, walnut, hickory, oak, pine and maple. You can select flooring for your Johns Creek, Georgia home and custom pick it yourself, or simply make a note of your selections and we will order the products, have them delivered, and perform a complete installation. If you prefer, call us at Just Floored and we will come out, measure the areas to be installed, and help you make the right selections to fit your home or Johns Creek business. Just Floored has been installing wood floors, tile other flooring for over 20 years in Johns Creek and the Atlanta Metro Area. Get a expert installation at a competitive rate from a company that offers service, affordable cost, and durability. Our work is warranted in Johns Creek, and if you purchase the flooring product from us we will warranty the product. Just Floored installs both existing homes and businesses as well as new builds.
Floor Preparation for Johns Creek, GA Residents
Just Floored can turn your existing floors to new by sanding and refinishing them. This will save money by keeping the floors you have. Just Floored can come out to your Johns Creek, GA home or business to assess your existing floors to see if they can be saved, We may be able to sand your existing floors and stain them with any stain color of your choosing. Many homeowners in Johns Creek, Georgia have chosen to go darker with their new stains, but the choice is a very wide range of colors and lightness or darkness. After staining we will seal the floors for a great looking professional job well done! We like to use an oil based finish because it is longer lasting but Johns Creek business owners and homeowners do have the option to use a water based finish as it has less of an odor. Ask your technician from Just Floored about low or no VOCs products for those residents of Johns Creek that are sensitive to chemicals. Your Johns Creek home will look stunning after the expert sanding, staining and sealing and you will soon see your home equity increase. Ask Just Floored about mimicking your current existing flooring. We can color-match your existing floors and marry in floors from one room to the next. Call us today for a free in-home quote at 404-452-2500. Email us at info@justfloored.com with any questions. We offer floor laying for new floors. We also offer floor refinishing using low VOC or no VOC products and dustless sanding.
Repairing Johns Creeks Floors
Day to day use of hardwood floors can cause scratches, dents and other damage to your floors. We can send an expert technician to evaluate the condition of your Johns Creek floors. Just Floored may be able to restore your existing Johns Creek hardwood or stone or tile floors back to their original beauty rather than installing new flooring, saving money. Just Floored may be able to fix broken wood scratches and gouges. Just Floored can add more hardwood floors to your existing floors matching them to the existing wood floors. Just restaining your hardwood floors to a different color can give your home a new, updated look. You may want to go darker or lighter. We are the experts and can help you make your home look fantastic and help to increase your home equity.
Hardwood Floor Sealing for Johns Creek Georgia Residences or Businesses
Save your existing floors and you'll be amazed at how much money you can save. Just Floored may be able to restore your floors by sanding, staining and recoating. Call us today for a free in home appointment in Johns Creek and we can inspect your floors to determine if we can refinish them, or you would need new flooring. We can offer options for your best decision. We offer low VOC or no VOC products.
Johns Creek Georgia Subfloors Repair or Installation
Residents and businesses of Johns Creek, Georgia have uneven floors caused by uneven subfloors. To have a professional wood floor installation, your floors need to be level. Just Floored can supply and install hardwoods, cork, bamboo, engineered floors, carpet, vinyl or even stone or tile floors in your Johns Creek home or business. Just Floored can install your floors professionally, call Just Floored today!
Selecting From Vinyl Floors or Carpet
Just Floored delivers a unique selection of carpet or vinyl flooring at various pricing brackets and offer skilled installation.