Floor Installation Alpharetta
Flooring Installation Services, Alphareta, Georgia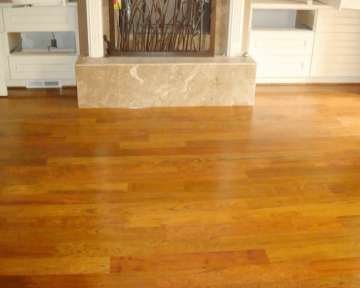 Free In-home Quote
Call us today for a free in-home quote in Alpharetta, Georgia, scheduled at your convenience. Just Floored of Atlanta provides a warranty on every installation and will give you with the highest quality installation at a low price. Our Alpharetta clients love how hardwood floors, engineered flooring, cork, laminate, stone, tile or vinyl add value to their home as well as completely change the look.
Installing new floors
Just Floored can install all types of flooring in your Alpharetta, GA residence including hardwood floors of various species such as oak, cherry, pine, hickory. We also offer engineered floors, cork floors, cost effective laminate, as well as tile or stone floors and vinyl. The design can be customized to suit your needs. We offer top quality at low prices and have been installing wood and stone/tile floors in the Metro Atlanta area for 20 years with a reputation for the best Alpharetta installation quality available. Our highly skilled expert technicians will install your elegant, environmentally friendly floors using superior techniques of the industry.
Sanding and finishing of Alpharetta, GA hardwood flooring
Our services include sanding solid hardwood flooring as well as staining and finish with 3 coats of polyurethane for a long lasting finish and great wear. We use oil base products unless a customer prefers a water based finish because of their quick dry time and odorless aspects. We also feature a new product by Monocoat that is all natural, easy to maintain, commercial grade and has no VOCs. New unfinished Alpharetta hardwood flooring will need to be sanded prior to staining the floors. Care must be given not to gouge the floors when sanding, or create unsightly swirls. Just Floored provides professional sanding for your new floors of the highest quality. Just Floored can also sand your existing Alpharetta hardwood floors for refinishing, or sand a damaged area of your existing floor and re-stain it to blend perfectly into the rest of the flooring. We offer floor laying for new floors. We also offer floor refinishing using low VOC or no VOC products and dustless sanding.
Recoating of existing Alpharetta, GA hardwood floors
If it is possible to restore your current Alpharetta floors through sanding and buffing, we would then apply 3 coats of finish. We would have to do an onsite inspection of your existing floors to determine if they are suitable to be refinished or saved, or if a new installation is required. Call us today for a free in-home quote. We can help you decide if it is cost effective to recoat your floors or not. Your home is your largest investment, and proper care of your existing Alpharetta floors can play a part in the overall value of your home. We offer floor laying for new floors. We also offer floor refinishing using low VOC or no VOC products and dustless sanding.
Repairs of existing floors
Just Floored can repair most hardwood floors as well as tile or stone floors. Call us today for a free in-home estimate. Just Floored is your best choice to restore your existing Alpharetta hardwood floors or stone/tile floors. Our expert staff are highly trained and skilled craftsmen that can restore your Alpharetta floors back to their original beauty at an affordable cost. Our repair services for Alpharetta residents include patching damage floors from scratches and gouges, or breaks. For areas in your Alpharetta, Georgia home you wish to extend the floor, Just Floored will weave in the new floor to match the existing. Or, if you prefer, we can change the color of your existing hardwoods going from a lighter shade to darker or vice versa.
Leveling of subfloors for Alpharetta residents
To ensure the best possible Alpharetta installation, your subfloors need to be level. We can do partial or complete leveling if needed. Just Floored will do the best job possible to make your new floor installation a valuable asset of your home, not only increasing the value of your home itself, but giving you, the homeowner, a beautiful surrounding to live in. If you live in or near Alpharetta, Ga, or anywhere in the Metro Atlanta area, call us today for a free in-home quote. Our prices are surprisingly affordable, but our quality is unsurpassed!