Flooring Installation Services, Dacatur, GA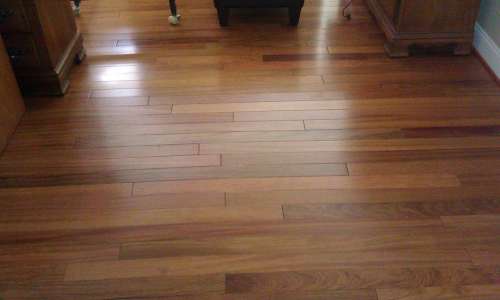 Call Just Floored about new hardwood floor installation today and learn about all the choices for new flooring such as solid hardwood floors in cherry, maple, hickory, oak, engineered wood or laminate flooring. Select your stain color for hardwood floors or prefinished engineered floors. Ask about "green" bamboo flooring that is environmentally friendly, or cost effective, sturdy laminate flooring.
Not only do we install hardwood floors, laminate or cork floors, we can lay tile or natural stone in your kitchen or baths and create one of a king back splashes. Our technicians are the best in the industry and our labor is warranted. You will like our low, competitive pricing for Decatur, Ga homeowners! Best of all, your home or business will look beautiful and will see an improvement in value. We offer floor laying for new floors. We also offer floor refinishing using low VOC or no VOC products and dustless sanding.
Just Floored Also Sells Wood Flooring, Tile and more
Just Floored offers Decatur homeowners a wide selection of flooring products in woods such as cherry, walnut, oak, pine, hickory and maple. We can supply most brands of wood floors in a vast array of stain colors, wood species and styles like wide planked flooring or hand scraped solid hardwoods or engineered wood flooring. We are also experts at laying tile or stone floors and backsplash with custom patterns. Just Floored's services for wood floors installation, stone or laminate has been well received in Decatur, Georgia for over 20 years. Just Floored of Decatur offers the highest quality home flooring installation while at the same time beating all the competition's pricing. Our work in Decatur is covered by a labor warranty. Just Floored offers either new onsite installations or flooring refinishing and repair. Call today for a free estimate at 404-452-2500. View flooring types for an installation by Just Floored by going online at www.JustFloored.com/Products.
Decatur, GA Floor Refinishing
Just Floored, LLC offers floor sanding and refinishing of existing hardwood floors if the floors are still in good shape as a cost effective means of enhancing your home or business. Call, Just Floored of Decatur today to get a free estimate. Our highly trained and courteous technicians will sand your hardwood flooring to get ride of any dings and uneven finish, then apply stain and sealer. This is a great time for Decatur homeowners or business owners to update their hardwood floors with a new stain color. Just Floored can help you choose from a wide variety of stain colors and finish sheen. We poly the floor after it has been stained to seal it. We can either use an oil based stain and sealer or water based finish which helps keep the odors down. JustFloored.com also offers an odorless sealer by Monocoat which has low VOCs. Improve the value of your Decatur home with newly refinished hardwood floors, or get your house market ready if you plan to sell. Just Floored can also match existing flooring if you need a repair or want to extend existing floors to another room. We offer floor laying for new floors. We also offer floor refinishing using low VOC or no VOC products and dustless sanding.
Call for a free in-home quote at 404-452-2500 or Email us at info@justloored.com.
Restoring Hardwood Floors in Decatur
Just Floored, LLC may be able to restore your existing hardwood floors by sanding, staining and re sealing them. This method is more affordable than installing new floors, but it does depend on the condition of your current flooring. Call us to come out to your Decatur home or office to evaluate your floors and see if it is possible to restore them. We offer free on-site quotes, so call us today to come out to Decatur and inspect your floors. Our services are warranted and our quality is the best in the industry.
Repair Floors for Decatur Residents
Decatur hardwood floors get damaged over time and lose their luster. Call us for a free evaluation and quote to determine your options. Repairs would include fixing wood scratches and gouges, evening out stain color and rebuffing floors. Sometimes Decatur, Georgia owners need to increase their wood floors to another room while matching the existing hardwood flooring. We are the right experts to make everything match and look new. Simply sanding and restaining your existing hardwood floors can make your home look new and refreshed. We offer low VOC or no VOC products.
Trouble with Decatur Subfloors
Uneven subfloors can reek havoc with hardwood floors. Before laying floors, we will level out your subfloors or install new sub flooring to insure your hardwood floor installation is the best it can be. Just Floored of Decatur is the expert to choose install new flooring in Decatur, whether hardwoods, cork, bamboo, engineered floors, carpet, vinyl or even stone or tile floors, Call 404-452-2500 today to schedule a free onsite evaluation of your flooring needs. We are the company to call in Decatur for floor laying.
New and Improved Vinyl Floors
Just Floored offers vinyl floor installation at low, low prices. Decatur homeowners will love their new vinyl floors we install. Today their is a wide range of vinyl flooring products to choose from and the cost is very affordable.